Military Suicides in Canada
The Canada eZine - Armed Forces
---
This Website is Best Viewed Using Firefox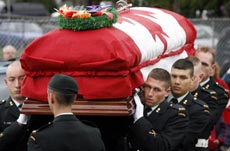 Military Suicides Doubled in 2007
A researcher at Université de Laval has found a dramatic spike in the number of military suicides in 2007, the CBC reported yesterday.
The network quoted Maj. Michael Sartori, a doctoral student at Laval, as saying that 36 soldiers killed themselves in 2007, compared with a yearly average of 12 to 17 from 1994 to 2005. Sartori said most of the data was compiled from Canadian Forces military police reports.
The rate would put military suicides at three times the general population, the CBC reported.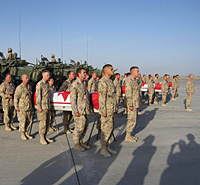 But a spokesperson for the Department of National Defence said last night that suicide rates among forces' personnel were lower than those among the general populace.
"The rate of suicide among male CF personnel during the period 2005-2007 was lower than the rate during the period 2000-2004," Lt.-Col. Jamie Robertson said in an email to The Canadian Press.
He said statistical comparisons since 2004 were not possible as Statistics Canada had not yet made information on Canadian mortality rates available for this period.
"From 2000 to 2004, the rate of suicide among Canadian males approximated 25 per 100,000, or one in 4,000. Over the same period, the rate of suicide among male CF personnel approximated 19.1 per 100,000, or one in 5,236. This means that the rate of suicide among male CF personnel between 2000 and 2004 was about 75 per cent of the rate among Canadian males, once the two have been age-standardized," Robertson said.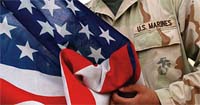 Epidemic of military suicides in the USA
From 2004 to 2005, 433 people who have served in the military committed suicide in Washington state.
In 2005 alone, there were 6,256 suicides nationally among those who served in the armed forces — about 120 deaths per week. The two-part report has shocked many members of Congress, because the figures are higher than other studies have suggested.
"Even for all of the tragic stories I have heard, these facts are astonishing," said Sen. Patty Murray, a Democrat and an advocate for veterans.
More startling, veterans between 20 and 24 years old — the group most likely to have been in Iraq or Afghanistan — killed themselves at twice the rate of civilians of the same age, they found.
The revelations have added another layer of concern to the congressional debate over the war, angering Democrats who believe the administration suppresses negative information.
Rep. Norm Dicks, D-Bremerton, wants the House Veterans Affairs and the Defense Appropriations committees to join forces to review whether the military and the Veterans Affairs Administration have minimized the number of suicides. He intends to take this up after Thanksgiving.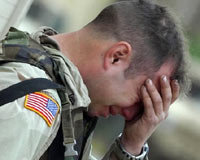 The suicide data is from official death records in 45 states (data from five states were unavailable), not from the VA.
So how many military members total have committed suicide? Who knows, Murray said. "There's been no willingness to provide the information by the VA for five years," she said.
That's what prompted the investigation. Noted statistician and epidemiologist, Dr. Steve Rathburn at the University of Georgia helped to analyze the data. He had no connections to the VA, nor did they pay him. The report also consulted many experts from Harvard, Columbia University and the Centers for Disease Control and Prevention, who work with the VA, during the investigation.
Dr. Ira Katz, the VA's deputy chief mental-health care services officer, estimated from "a back of an envelope calculation" that there are about 5,000 suicides per year among those who had been in the armed forces.
According to the data, people who had served in the military account for about a quarter of the state's suicides.
US Military Stories
The US military uses a series of short stories to teach soldiers about the warning signs of suicidal depression in an effort to stave off the rash of suicides during a war. Below are samples of those stories.
PVT Smith was a 22 year-old black male who was three months into his first deployment. While surfing MySpace.com, he learned that his deployed girlfriend was involved in another relationship. After that, PVT Smith began to abuse alcohol. One evening, PVT Smith refused to go to the gym with his buddies, which was unusual. That night, Private Smith shot himself to death.
SPC Rodriquez was a 27 year-old, Hispanic male, who had previously deployed to both Iraq and Afghanistan. SPC Rodriquez recently received an Article 15 resulting in loss of pay and rank. His commander referred him for a lateral transfer and cross training. It was known that SPC Rodriquez was very frustrated and angry about the command referral and reassignment to a new unit that was deploying in a week. Ordinarily, he was very quiet and introverted, but had a good rapport with other platoon members. He was a "video gamer" who spent more time gaming and less time with friends. SPC Rodriquez was missing for 2 days before he was discovered dead by a buddy. SPC Rodriquez had hanged himself in the basement of his quarters.
PFC Morgan was a 19 year-old, white male, 11 B, who had deployed twice to Iraq with significant combat exposure. PFC Morgan had difficulties learning new Soldiers' skills. Because of his slowness, he was often ridiculed by peers and leadership. Everyone believed that he accepted the treatment as good natured ribbing. Prior to his death, he gave away some personal belongings. About one day before his death, he also told a buddy that he had "had enough". This was interpreted as simple frustration. PFC Morgan was found dead in his car by carbon monoxide poisoning.
SPC Rhodes was a 25 year-old, white female, 91 W, who has deployed three different times: twice to Iraq and once to Afghanistan. During a current deployment, her TMC experienced a mass casualty in which SPC Rhodes watched several Soldiers from her unit die. She was neither well-liked nor disliked by others. She frequently talked about her boyfriend back home and their plans to marry. About a week before she died, she received a letter from her boyfriend indicating that he wanted to terminate their relationship. SPC Rhodes was discovered in her bunk dead from a drug overdose.
SGT Jones was a 34 year-old, married white male, 13 B, who was six months into his first deployment. SGT Jones received a verbal counseling for not following proper risk assessment procedures which may have led to combat casualties. He declined mid-tour leave. One week before his death, he received an Article 15 for falling asleep while on guard duty. SGT Jones shot himself to death using his own military weapon.