Canadian Loonie on a Roll
The Canada eZine - Economics
---
This Website is Best Viewed Using Firefox
Dollar hits 30-year High
May 18th 2007.
Positive retail sales numbers gave the Canadian dollar another boost Friday to levels not seen since Pierre Trudeau was prime minister 30 years ago, and it may go even higher with the latest speculation that the Bank of Canada could raise interest rates.
"It's been quite the day," said Doug Porter, deputy chief economist at BMO Capital Markets.
The Canadian dollar closed up 0.77 to 91.79 cents (U.S.), the highest level since Oct. 11, 1977, after Statistics Canada said retail sales surged 1.9 per cent in March to $34 billion - a lot stronger than the 0.7 per cent rise economists had expected. The dollar had flirted with the 92 cents barrier all day, reaching as high as 91.94 cents.
The currency's gain came on the heels of a 0.43-cent rise Thursday with more news of the Canadian economy firing on all cylinders with a better-than-expected inflation report for April.
The combination of strong economic data and the recent spike in energy and commodity prices is being seen as putting the Bank of Canada under pressure to raise interest rates after holding its policy rate unchanged at 4.25 per cent since last May.
Economists are wondering how high the loonie is going to go.
"That's the $64,000 question," said Porter.
"Once it broke through the 91-cent barrier it was just off to the races for the currency," he said.
It likely won't reach par with the U.S. greenback or go much above 96 cents because the Bank of Canada and financial markets would likely step in to protect manufacturers, who suffer when the loonie gets too high, said Craig Alexander, deputy chief economist for TD Bank Financial Group.
"It could easily reach 96 cents but parity would be a huge shock for exporters," he said. "Right now it's a boon to Canadian households because the price of clothing and footwear imported into Canada just got cheaper," Alexander added.
However, the stock market isn't that happy with the latest spike in the currency as a higher dollar makes it tough for exporters such as manufacturers and forestry companies.
Toronto's S&P/TSX composite index added 4.63 points to 14,105.34. Energy, mining and telecom stocks gained while financials dragged ahead of quarterly earnings reports from the big banks coming down over the next couple of weeks.
Despite the lacklustre showing, the TSX managed to exploit a small breakthrough past the 14,000 mark this past week, gaining 101.52 points.
"I think what we have from a big picture is we are still very clearly in an upward trend," said Julie Brough, assistant vice president at Morgan, Meighen and Associates.
"But I think that given the seasonality that we tend to get over the summer when you get a little bit of weakness, that it's going to be harder moving the index. So I think we continue to trend up but I think it's choppier."
The TSX Venture Exchange was up 43.05 points to 3,279.6.
On Wall Street, the Dow Jones industrial average rose 79.81 points to 13,556.53 after the University of Michigan index of consumer sentiment for May came in at 88.7, higher than expected.
Another indication of firm U.S. consumer spending came as retailers J.C. Penney, Kohl's and Nordstrom posted earnings that surpassed Wall Street projections.
The Nasdaq composite rose 19.07 points to 2,558.45 and the S&P 500 index gained 10 points to 1,522.75.
Microsoft Corp. said Friday it will purchase online advertising firm aQuantive Inc. for $6 billion (U.S.) in cash, while General Electric Co. was reported to be near an agreement with a Saudi industrial giant to buy GE's plastics division for $11 billion.
On the TSX, the financial sector was down 0.6 per cent with TD Bank (TSX:TD) off 46 cents to $70.39 (Canadian) and Bank of Montreal (TSX:BMO) losing 31 cents to $69.09.
The energy sector was up 0.8 per cent. The June crude oil contract on the New York Mercantile Exchange was up eight cents to $64.94 (U.S.) a barrel. Petro-Canada (TSX:PCA) advanced 66 cents to $54.30 (Canadian).
Precision Drilling Trust (TSX:PD.UN) sagged $1.32 to $28.80 after cutting its distribution again, this time to 13 cents per unit monthly from 19 cents. Canada's largest oilfield services provider cited "low equipment utilization levels . . . and an increasingly competitive pricing environment."
Shares in Imperial Oil (TSX:IMO), a major player in the proposed Mackenzie Valley gas pipeline, jumped $1.28 to $49.99 after the head of an aboriginal consortium involved in the project said the federal government is considering at least a partial buyout of the energy companies involved.
On the TSX, advances beat declines 932 to 689 with 203 unchanged as 338.3 million shares traded worth $5.7 billion.
Vasogen Inc. (TSX:VAS) stock tumbled 49 cents or 13.9 per cent to $3.03 after it arranged with institutional investors to raise $16 million (U.S.) selling common shares at $3.25 each, plus warrants to raise additional $11.7 million.
Shares in cigarette maker Rothmans Inc. (TSX:ROC) surrendered 76 cents to $22.58 (Canadian) after its latest quarter's profit rose to $18 million from a year-earlier $16.4 million while sales volumes slipped.
Toymaker Mega Brands Inc. (TSX:MB) swung to a first-quarter loss of $23.9 million (U.S.) following an additional $35.2-million charge for the partial recall of Magnetix building sets blamed in a child's death. Its shares added 32 cents to $21.05.
China announced Friday it has widened the daily trading limit for the yuan against the U.S. dollar. American officials hope a stronger yuan will help to narrow the multibillion-dollar American trade deficit by making Chinese goods more expensive.
China has also raised interest rates for the fourth time in a year in a renewed effort to cool its sizzling economy.
---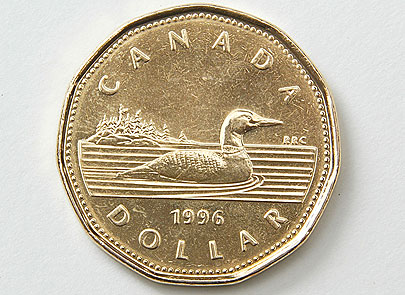 Loonie tops 94 cents as parity forecast
June 1st 2007.
The Toronto stock market finished the session and the week higher Friday as U.S. data provided reassurance on the economy and Stelco Inc. (TSX:STE) shares jumped after the steelmaker confirmed it's for sale.
The Canadian dollar also topped 94 cents (U.S.) Friday and some economists believe it will hit par with the U.S. greenback by year's end.
Stelco made huge gains on the market Friday, surging 18.7 per cent to close at $31.20 after disclosing it is reviewing "strategic options" amid consolidation in the global steel industry.
Ian Nakamoto, director of research at MacDougall, MacDougall and MacTier said the news shouldn't come as a surprise.
"There doesn't seem to be a role for an independent steel company to survive. You have to be part of the big global players or you'll be marginalized," he said.
New York markets also rose higher on the positive news on U.S. job creation, manufacturing and spending but off early highs with key indexes hitting new all-time highs.
Toronto's S&P/TSX composite index advanced 62.59 points to 14,119.37, led by advances in energy and mining stocks, for a gain of 95.3 points this week.
The TSX Venture Exchange gained 33.18 points to 3,274.87.
The Canadian dollar continued to strengthen following the Bank of Canada's indication earlier in the week that it will likely raise interest rates later in the year to deal with inflation.
The currency was up 0.73 of a cent to 94.22 cents (U.S.), its highest level since July 1977, and economists expect it to head higher. At one point in the session, the currency hit 94.36 cents.
CIBC World Markets predicted that the dollar will be worth as much as the greenback by the end of the year. It is already up about nine per cent this year.
In New York, the Dow Jones industrials moved up 40.47 points to another record high of 13,668.11 after the U.S. Labour Department reported that the economy cranked out 157,000 jobs in May, the most in two months.
Economists had been looking for 140,000 jobs. The unemployment rate held steady at 4.5 per cent.
Also, the Institute for Supply Management manufacturing index hit 55 in May, above the April reading of 54.7 and higher than the market's expectation of 54. It was the fourth consecutive month of growth in the index which tracks factory activity.
The Nasdaq composite index rose 9.4 points to 2,613.92 and the S&P 500 index gained 5.72 points to a new record high of 1,536.34.
In other economic news, the Commerce Department reported Friday that American incomes slipped 0.1 per cent in April, while consumer spending rose by a strong 0.5 per cent.
"The consensus is that the U.S. had a very weak first quarter but the second half will be moving up," said Nakamoto, "and you still have the emerging markets like China doing, eight, 10 per cent (economic growth), Europe and Japan also doing well. It's hard to get negative."
On the TSX, the energy sector rose one per cent as the July contract for crude oil on the New York Mercantile Exchange added $1.07 to $65.08 a barrel. Petro-Canada (TSX:PCA) advanced $1.13 to $55.10 (Canadian) while Suncor Energy (TSX:SU) improved $1 to $93.89.
Paramount Resources Ltd. (TSX:POU) is selling oilsands leases and natural gas assets to MEG Energy Corp. for $301.7 million in cash and shares. Its units fell $2.24 to $24.41.
The mining sector rose 0.87 per cent as Aur Resources (TSX:AUR) moved ahead $1.44 to $31.30 and Sherritt International (TSX:S) advanced 33 cents to $15.23.
The August bullion contract on the New York Mercantile Exchange climbed $10.20 to $676.90 (U.S.) an ounce, taking the gold sector up 1.44 per cent. Goldcorp Inc. (TSX:G) gained 31 cents to $26.04 (Canadian).
Support also came from the TSX industrials sector where Bombardier Inc. (TSX:BBD.B) continued on a roll after a solid earnings report earlier in the week. Its shares moved up 22 cents to $5.54.
The market was held back by a dip in the tech sector with Cognos Inc. (TSX:CSN) down $1.22 to $41.42.
There was also some weakness in the financial sector as shares in Laurentian Bank (TSX:LB), Canada's seventh-largest chartered bank, declined 14 cents to $34.31 after it said its second-quarter profit declined to $20.7 million from a year-earlier $24.6 million, when there had been an unusually large tax gain. Revenue increased by 11 per cent to $145.7 million.
On the TSX, advances beat advances 23 to 641 with 238 unchanged, as 401.6 million shares traded worth $7 billion.
Quebecor Media Inc. (TSX:QBR.B), owner of the Sun tabloid newspaper chain, is buying Osprey Media Income Fund (TSX:OSP.UN) in a deal worth $517 million, including debt. Quebecor is also taking subsidiary Nurun Inc. (TSX:NUR) private and has launched a national classified network called Classifiedextra.ca, integrating more than 200 daily and community newspapers and Canoe.ca network. Quebecor shares were down 18 cents to $38.10.
Shares in Railpower Technologies Corp. (TSX:P) tumbled 20.9 per cent to 43.5 cents as it announced it is recalling 59 of its Green Goat yard switcher locomotives after a fire in one of dozens sold. The company's newer product, the Road Switcher fleet of over 100 vehicles in operation or on order, is unaffected by the recall.
Shares in Labopharm Inc. (TSX:DDS) plummeted 52 per cent to $3.22 after the company received a second "approvable" letter from the U.S. Food and Drug Administration concerning its once-daily formulation of the painkiller tramadol, saying the company has not demonstrated the efficacy of the drug.