Toronto Website Design &amp Toronto SEO
5 Greatest Canadian Horses
And Why they're Famous
If you're a subscriber to Canadian Thoroughbred Magazine a lot of the names below may sound familiar to you, but let's pretend you're not a horse aficionado... Let's pretend you're just an average Canadian who has never even ridden a horse and knows very little about the history of horses in Canada.
Northern Dancer
Born in May 1961 this little Canadian thoroughbred has become the most influential horse in Canadian thoroughbred racing. Northern Dancer, or "the Dancer", was the first Canadian-bred horse to win the Kentucky Derby in 1964 - winning it in 2:00 minutes flat. Plus won the Preakness Stakes and the Queen's Plate all the same year.
But when the Dancer was sired out we see why this particular horse was so important. Northern Dancer's children alone included 112 stakes winners and his bloodlines are now sprinkled around the globe as grandchildren and great-grandchildren continue to win races. When Northern Dancer died in November 1990 he made front page headlines on newspapers across the country and CBC news. Northern Dancer is one of only two horses inducted into the Canadian Sports Hall of Fame.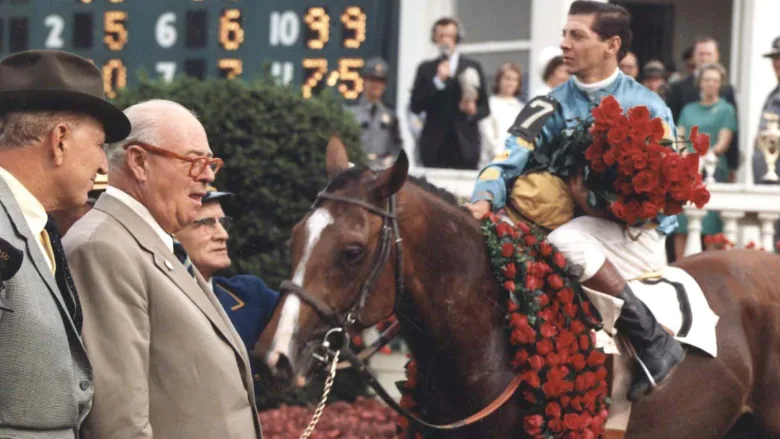 Big Ben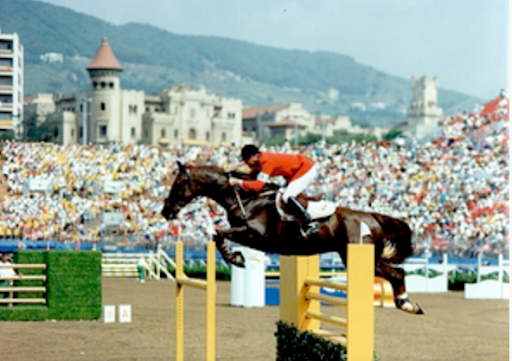 This huge Belgian jumping horse is the 2nd horse inducted into the Canadian Sports Hall of Fame. Big Ben was foaled in 1976 in Belgium, but arrived in Canada soon afterwards when he was purchased by Canadian equestrian Ian Millar for $45,000 and permanently relocated to Millar Brooke Farm in Perth, Ontario. He won over 40 Grand Prix victories, enjoying both success and celebrity. He also won six Spruce Meadows Derbys, the World Cup twice in a row (1988 and 1989), the du Maurier International twice (1987 and 1991), and numerous other wins in the world of show jumping.
In 1992 Big Ben survived two bouts with colic and a car accident that flipped his horse trailer (two other horses died, a third became lame due to the accident, and a fourth horse refused to ever a trailer afterwards). Big Ben won a Grand Prix only 2 months later, and later won his sixth Spruce Meadows Derby. This was his final derby appearance. Big Ben was later put down in 1999 after a third bout of colic. His death made national news across Canada.
Cam Fella
Born in 1979 this standardbred pacer became known as both "The Pacing Machine" and "The People's Horse". His mile-long runs in the early 1980s thrust harness racing into the spotlight. Harness Racing is a sport that involves using a two-wheel cart (a sulky) behind the horse where the jockey sits and the horse is trained to run at a specific gait - if they break stride or gallop then they are disqualified from the race. Cam Fella was notoriously good at keeping the pace, hence the name "The Pacing Machine", but he was also very fast.
He won so often in 1983 that he won a then unheard-of amount of $2 million in winning purses. And he kept on winning up until his retirement. During his last two seasons alone he won 58 of 69 races.
Even after his retirement he was toured around North America where packed crowds would come just to see the famous horse. He became the dominant sire of the 1980s and 1990s, siring a total of 1,002 foals who later earned $106.7 million in prizes. His offspring and bloodlines continue to win to this day, and many of them are now in various hall of fames. He was euthanized on May 9, 2001. A small residential street in Toronto near the former Greenwood Raceway is named "Cam Fella Lane" in his honour.
La Prevoyante
Born in 1970 this thoroughbred filly won 12 out of 12 races during the 1972 season, rivaling Secretariat for the 1972 American Horse of the Year award, but was edged out in the final votes by a narrow margin. She won more races in 1973, but also start losing (coming in second) for the first time.
After a race in December 1974, La Prevoyante collapsed. She later got back on her feet and was able to walk to the stables but collapsed again and died of a ruptured lung. She was later inducted into the Canadian Horse Racing Hall of Fame and the United States National Museum of Racing and Hall of Fame.
Dance Smartly
Born in 1988 this Ontario-bred filly (and granddaughter of Northern Dancer) obliterated the competition (completely undefeated) to win the Canadian Triple Crown series in 1991, with victories in the Queen's Plate, Prince of Wales Stakes and Breeders' Stakes. She became the first Canadian horse to win a U.S. Breeders' Cup event. She is a member of both the American and Canadian horse halls.
When she retired she was the number one money-winning filly in the world, having won on both turf and dirt, and at distances of up to 1.5 miles. As a broodmare she continued to produce winning horses, eventually winning 2001 Canadian Broodmare of the Year. Dance Smartly was euthanized in August 2007 after suffering an irreparable injury.